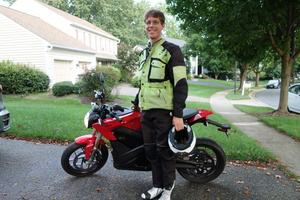 Electric motorcycles
Status: current; 2012-present (supersedes any conflicting remarks left on this page; see the home page for definitions)
I'm a happy user and proponent of electric motorcycles (and electric vehicles in general).  I have two kinds of information for you here:
Electric motorcycle info: Specs of my motorcycle, plus other information and resources about electric motorcycles.  (A superset of the info on the sign I display with my motorcycle at shows.)
My story: How I got interested in electric motorcycling, scenic places I've been, etc.
Electric motorcycle info
My current motorcycle (pictured) is a 2017 Zero SR with a Charge Tank.  Some talking points:
It's quiet and smooth like any electric vehicle.
It's easy to operate.  Since it uses direct drive, there's no clutching or shifting; from a stop, you can just open the throttle and go.
Range (realistic from my experience): 100 miles.  Somewhat less in very cold weather.  If you stop for a break and pick a place with a charging station, you can get a partial charge to extend the range.
Full charge time: About 2.5 hours from a J1772 station (using the Charge Tank accessory, which I have), or about 9 hours from a wall outlet.  Unfortunately, no DC fast charging support.
0-60 mph in ~3.3 seconds (according to some unofficial sources; results will vary a bit).  And it's easy: just open the throttle all the way and hang on tight, no shifting needed.
Top speed: 102 mph peak, 95 mph sustained.
You can use Zero's mobile application to limit the motorcycle's top speed, scale down the acceleration across the entire throttle range (which gives you finer control during low-speed maneuvering), or change the level of regenerative braking to your preference.
I bought the motorcycle used in 2020 for $10,000 (plus shipping and taxes, etc.), which was an unusually good deal.
The motorcycle is my style!  It looks friendly and sleek, and the clean design brings out the elegant simplicity of an electric vehicle: there's a battery, a motor, and not that much more.  I don't think I could have done it any better myself.  Of course, beauty is in the eye of the beholder, and plenty of other options are available to suit other tastes.
Zero Motorcycles is the most popular electric motorcycle brand in the United States and has a good dealer network.  For current model specifications and prices, see their web site.  You can also find used Zeros for sale on the web, e.g., on CycleTrader.  Other brands worth considering include Energica and LiveWire.
As of this writing (2022-05-20), I live in Rockville, Maryland and my nearest Zero dealer is Cyclemax in Gaithersburg.  Cyclemax also carries several other electric motorcycle and electric bicycle brands, so it may be a good place to try several options if you're looking for an electric-powered two-wheeler of some kind.
A few resources that I've found helpful (you can probably find many more):
You can always email me with questions or just to chat, and I'll respond if I have time.  I'd love to share in your joy, even if I don't have a better answer than you could find for yourself on the web.
Be safe and have fun!
My story
I love electric vehicles of all kinds, but especially motorcycles.  When I moved to the San Francisco Bay Area for a job in September 2011, I had to buy my first car, and I decided to outdo a friend who was very proud of his (non-plug-in) Toyota Prius by buying a Nissan Leaf; that also helped to reduce what would otherwise have been a bewildering decision.  At about the same time, I met another friend who rode a motorcycle.  It sounded cool, and I immediately asked if there were electric motorcycles.  He pointed me to Brammo, but I let the matter rest for about a year.
Eventually, my new coworkers reawakened my interest in motorcycling.  I took the Motorcycle Safety Foundation class in September 2012, but before I put down the money for my own motorcycle, I got a better idea of the experience by riding as a friend's passenger on 2012-10-31.  That night, I pulled up the list of electric vehicle models on Plug In America (which at the time included motorcycles; unfortunately no longer), saw the 2012 Zero S, and was immediately hooked by the style.  I waited to work through some challenging times in life and then bought my own Zero, who I named Scott (probably after Zero Motorcycles' headquarters in Scotts Valley, California, where I had been before to charge my car without realizing Zero was an electric motorcycle manufacturer!).  Scott was delivered to me on 2012-12-20, coincidentally the same day that my family came to visit me, so my attention was rather divided.  Fortunately, they took it well, and my mom even took these photos (click for a larger version):
Electric motorcycles are blissful: they're really quiet and there's none of the clutching that I struggled with so much in the Motorcycle Safety Foundation course.  Their main limitation was, and still is, range.  Scott's usable range was limited to about 80 miles when traveling at 35 miles per hour and he took about 4.5 hours for a full charge with the setup I had, so in a long day of traveling and partial recharging, we could go about 160 miles maximum.  Nevertheless, we had phenomenal adventures.  One time when Scott spent two weeks at Zero headquarters for repairs, the Zero staff were kind enough to lend me a 2012 Zero DS and suggested that I go to the Santa Clara County off-road motorcycle park, where I promptly had a minor accident and decided that was enough of that, but I still put another 400 miles on the loaner going to other places.  Below are some of my favorite spots.  You can find more photos of Scott on PlugShare if you know where to look.
I even wrote a song of 59 of my favorite scenic roads in the San Francisco Bay Area, roughly grouped by region (to the tune of the list portion of "Fifty Nifty United States"):
Calaveras, Niles Canyon, Palomares, Redwood, Skyline, Pinehurst, Canyon, Morgan Territory, Grizzly Peak;

Mt. Hamilton, San Antonio Valley, Mines, Del Puerto Canyon, Quimby, Metcalf, Shannon, Hicks and Alamitos;

Hecker Pass, Eureka Canyon, Highland, Summit, 17, Mountain Charlie, Glenwood, 9, Mt. Hermon;

Zayante, Bear Creek, Empire Grade, Jamison [Creek], Pine Flat, China Grade, Big Basin; Sky Meadow;

Sir Francis Drake, Fairfax-Bolinas, Lucas Valley, Great Highway, 1, Guadalupe Canyon, 92;

San Gregorio, Pescadero, Alpine, Stage, Arastradero, Page Mill, Sand Hill, Moody, Altamont, 280;

Portola, Stevens Canyon, Redwood Gulch, Mt. Eden, Montebello, Skyline and La Honda!
(Save everyone's favorite hangout for last.)
Scott came with me for a brief stay with my mom in Rockville, Maryland in August 2014, and I joined part of a ride with a local motorcycle group, splitting up from them in Charles Town, West Virginia when I ran out of range.  Scott followed me to MIT in Cambridge, Massachusetts; the scenery was not as good there, especially because I spent each summer away at an internship, but we got in a few good trips.  On the long weekend of October 10-12, 2015, I took my only overnight motorcycle trip so far, traveling to the White Mountains in New Hampshire.  At several places where I stopped, I learned via photos on PlugShare or conversations with locals that famous electric motorcyclist Ben Rich had been there before; it reminded me of following my rival to gyms in the original Pokémon video game.
Unfortunately, life changes left me with less and less energy for motorcycling.  Finally, in 2018, I parted ways with Scott in a recall.
I didn't know if I would be able to enjoy another motorcycle enough to justify the money, but in January 2020, by then living with my mom in Maryland, I found a good deal on a used 2017 Zero SR with a charge tank and jumped on it.  My new motorcycle, who I named Ralph (it just sounded like a fun name), came on 2020-02-07.  Here we are (thanks Mom!):
As of 2021-06-01, we've had a few nice trips.  On one trip (2020-08-18), we made it to the same spot in Charles Town, West Virginia where I left the group in August 2014.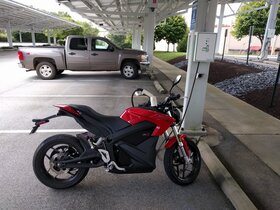 I got some feedback that it wouldn't be obvious to laypeople that Ralph is electric; this was later confirmed when I myself failed to recognize an Energica Ego from the rear.  As of March 2021, I've tried to address the problem by adding a vanity license plate (Maryland "BZZAP", for anyone trying to find this page by searching the web for the plate text) and a stuffed Elekid (an electric Pokémon); further ideas would be welcome.  (Back when I owned a Nissan Leaf, it had an identical Elekid looking out the back window too.)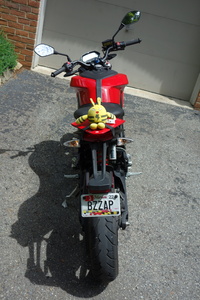 With Ralph's longer range and faster charging, I look forward to more joy to come.