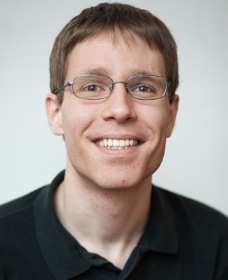 Matt McCutchen: meta
(Formally Richard Matthew McCutchen)
Primary email: matt@mattmccutchen.net .  You are always welcome to email me.  I strive to read email within 24 hours and address issues in a reasonable timeframe based on their complexity, urgency, and priority to me.  (For issues that need attention sooner than 24 hours, please prefer to call or SMS me if you don't have reason to believe I'm watching for an email.)  I often prefer to set a time to talk by phone or in person when that will be more efficient than email, typically for vague requests or chat about life.  If you think I'm mistakenly ignoring your mail, you can remind me, but please be polite.
Also me: hashproduct@gmail.com [deprecated], hashproduct(at)verizon.net [no longer works].
My GPG key.  I sometimes sign my email with this key, and you are welcome to send me email encrypted with it.  Valid signatures from this key are not intended to be binding, legally or otherwise.  Last change: On 2008-06-13, I added a user ID for rmccutch@cs.umd.edu .
I'm interested in the functionality and efficiency benefits of online social networking compared to one-to-one communication, but I have not put in the effort to find a solution that has acceptable privacy properties and does not burden me with unwanted interactions.  I used Facebook at one point but stopped around 2009-12-12 when the option to make my friend list non-public was removed.  I'm visible on Google+ for people to find me but do not have circles or content of my own.  (Maybe I could safely do the same on Facebook now; I haven't explored it.)
My phone number and postal address are not (intended to be) public.  Email me if you want them.
Life
See my CV for a comprehensive list of activities, or my résumé for the qualifications most relevant to the work I'm looking to do in the near future.
As you might have guessed, I'm a geek in several areas, the main one being computing.  I want to make computing as easy as it conceptually can be, in support of all the other things people need and want in life.
I'm seeking to grow personally and work toward fulfilling my broader responsibilities to society through my participation in Unitarian Universalist and other groups.
My hobbies aside from computing include taking scenic trips by electric motorcycle or bicycle, Dance Dance Revolution (and clones), contra dance, and piano. I'm a fan of electric vehicles in general, though not a builder.
Since September 2014, I'm a Ph.D. student in computer science at MIT; email there is rmccutch@mit.edu (preferred) or rmccutch@csail.mit.edu .  See my MIT web page for additional information and projects.
In September 2011 - August 2014, I lived in Mountain View, CA and worked as a software engineer for Google.  I was a happy member of the Unitarian Universalist Church of Palo Alto.
In 2007-2011, I completed my B.S. in computer science and math at the University of Maryland, College Park.  Email there: rmccutch@umd.edu and in the computer science department, rmccutch(at)cs.umd.edu [no longer works].
In 2003-2007, I was a student in the Montgomery Blair High School Science, Math, and Computer Science Magnet Program.  Email there: rimccutc@mbhs.edu .
Web site
This site, mattmccutchen.net, is the primary source for my news and projects.  I also host files and applications here for specific audiences; you'll know if this is you.
In general, any information you find here may no longer be fully accurate or representative of my current work or opinions.  It's hard for me to be disciplined about updating, flagging or removing stale information without evidence that people care or are being confused.  I encourage you to make use of what you can and to email me if you would like a status update on anything here.  If you use the "Email me about this page" link at the top or bottom of the page, the subject will be automatically prefixed to indicate the page you were on.
This site uses SSL with a free certificate from Let's Encrypt. I am eagerly awaiting a future PKI that does not require everyone to trust the same third parties ("trust on first use" is not a solution, a web of trust with clearer semantics might be), but for now, I support the use of the public CA system to defend against a range of potential attackers.
In the past, I sought to make this web site an exemplar of server and browser security.  What remains of that effort is that Strict Transport Security is enabled, because among other reasons, it is the only way I know of to completely prevent login XSRF via cookie forcing.  I urge you to use a modern browser that supports Strict Transport Security.