Dance pad
I'm a big fan of Dance Dance Revolution (DDR) and its clones (including StepMania and In The Groove) because they fully engage me both mentally and physically; I've also found that some of my training playing the piano is transferable to these games.  As of August 2015, I play at around level 11 on the In The Groove scale.  A good dance pad is a requirement to have a good experience at this level, so as of April 29, 2015, I've set up my own dance pad to provide an alternative to commuting to the local arcade.  It's a Precision Omega ITGX with the multi-console control box (no longer sold; most similar product) and a slight modification of the Precision bar kit described here to make it possible to pack the base smaller for moving and storage.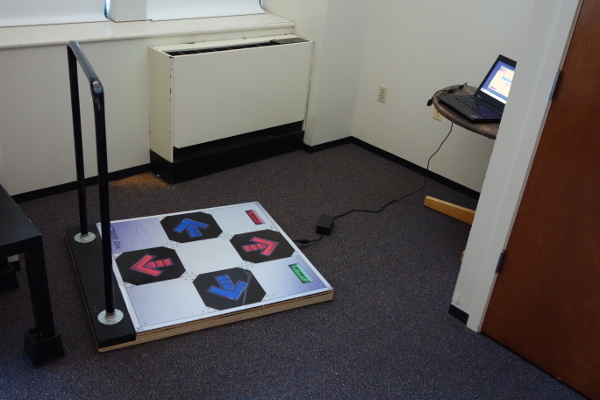 I'm currently at MIT in Cambridge, MA, and I may be able to host interested members of the public to play on the dance pad.  I'm also open to lending it out for events.  Please email me for more information.
Other resources
The main forum for local (Massachusetts) DDR fans is Mass Rhythm.
The best directory of arcade locations that I'm aware of is Zenius-I-vanisher.  Ideally we'd have a directory that includes semi-public facilities like mine as a separate filterable group, analogous to PlugShare; I've seen at least one such listing on Zenius-I-vanisher but am unsure whether they are officially encouraged.